Jasmine Yinzhen/Jasmine Silver Needle Tea
Product Detail
Feedback now




This unique aged white tea, from its true origin, Fuding county of Fujian province, has been aged for 15 years.




【
Origin
】
:
China
【
Name
】
:

Jasmine Yinzhen/Jasmine Silver Needle Tea
【
Model
】
:

O

RT24
【
Altitude
】
:

600M above sea
【
Material
】
:

Flower buds
【
Harvest time
】
:

Spring
【
Liquor Color
】
:

Light red and clear with a strong and delicate fragrance
【
Taste
】
:

Mild and a little bitter
【
Aroma
】
:

Sweet, Flowery
【
Shelf Life
】
:

15 Years under Dry, Dark and No Odor Conditions.



01. Jasmine silver needle has the effect of relieving pain, warming stomach, reducing swelling, detoxification, and strengthening immune system;
02. Clearing liver and eyesight, promoting fluid and thirst, lowering blood pressure, strengthening heart, preventing caries, anticancer, and anti-aging, so as to prolong people's life and improve their physical and mental health.
03. Calming the mind, moistening the skin and fragrant muscles. It has a pleasant fragrance, can improve drowsiness and anxiety, and has a certain preventive effect on chronic stomach diseases. Calm the mind, stabilize the mood and relieve depression.
04. Drinking jasmine silver needle not only beautify the skin, but also cure some diseases. The combination of jasmine silver needle and pink rose has the effect of slimming. It is especially helpful to expel toxins in the body, moisturize dry muscles, and beautify hair.





Local original material, no addictive. Fresh fragrant flowers scented with fresh teas. The jasmine flowers is selected from Hengxian County, Guangxi Province, during the Sanfu days as "autumn flowers", with very high pollen concentration to ensure the strong floral fragrance. The quality of spring tea is guaranteed from the source. Good flowers contribute to premium teas.



Fresh, full-bodied and long lasting, with strong fragrance.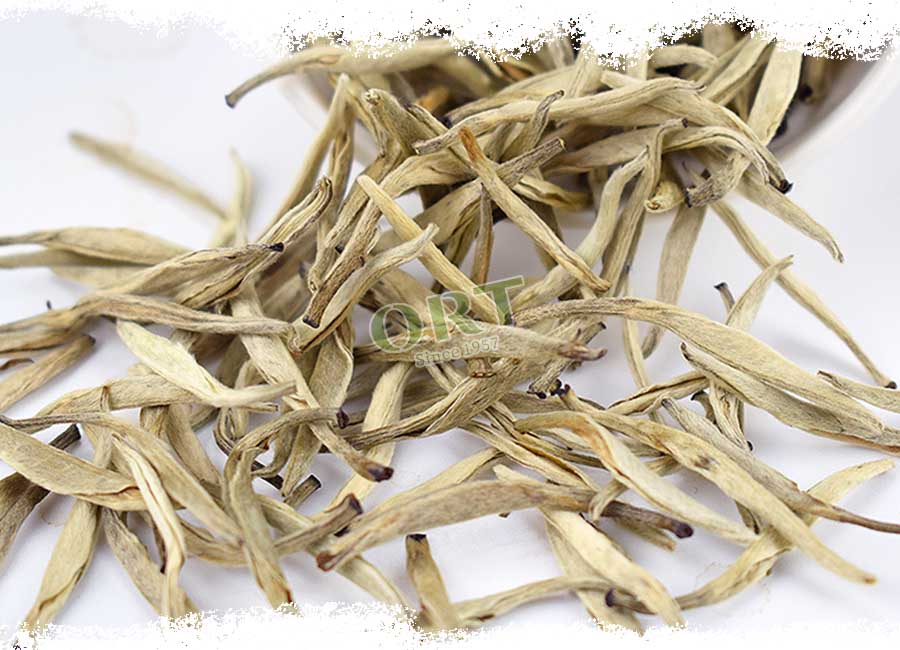 Appearance: Long tea leaves is beautiful, fine as needle, even and straight, covered with tea hair, white color shinning like silver.
Taste: fresh, mellow, long lasting.
Tea infusion: yellow green, bright, fresh and soft.
Boiled tea leaves: oily luster, tender and fresh.


Tea buds stand up when brewing, like snowflakes falling, it's a wonderful sight. Have a cup of jasmine silver needle from valley during busy life. It tastes sweet and mellow, the first sip is fresh and refreshing, the second is warm and sweet, and the third one is fragrant. Let us slow down life from this cup of tea.





Sometimes product packaging is more important than internal items.
Whether a product can be successful in sales.

.

There are two key points:
1. Brand.
2. Product packaging.

.

Today, there's vastly abundant products apprear every second, consumers pay few attention to each product, to grasp the moment when consumers' eyes are swept across the shelf.

.

Only packaging can make comprehensive combination of color, shape, material and other elements, while showing the connotation and information of products, brands, highlighting the common interests of products and consumers, forming a more intuitive impact on consumers, and then affecting consumption The consumer's impression of the product, effectively fulfilling the purpose of attracting consumers.
1. Can I get samples?

Yes, free samples are available on a case by case basis at buyer's own freight cost after confirmation

.

2. What is your minimum order requirements?

Usually 20kgs/ item, knowing that the more quantity, the lower the price per kg.

Sample order is also acceptable.

.

3. Can you provide OEM service?

Sure, please contact us for more details.

.

4. How is your Quality Control?

From the very beginning to the very end, National Commodity Inspection and Testing Bureau, Authority Third-party Testing institution, QS, NOP, BRC, QS guarantee our quality.

.

The details for our pesticide control are as follows:

● we test our raw tea material.

● we test the first batch sample products.

● we test the bulk tea before shipment.

Please ask us for the original certifications.

.

5. Can I visit your factory & offices?

Yes, you are most welcome to visit us. Please let us know in advance so we can get organized.

We have own tea farms and factory in Fuding, Hengxian and Fengqing two hours away from Xiamen city (for white tea, green tea, oolong tea), or three hours away from Nanning airport (For Jasmine tea), and three hours away from Lincang airport (For Black Tea & Pu Erh Tea) .

.

6. When will my order shipped?

Products in stock usually ship within 3 days. Otherwise, depending on the tea varieties and order quantity, delivery times can vary. Please ask us and we will let you know.

.

7. Will my money be refunded if anything is wrong with my order?

If there is a problem or defect with your order, please contact our manager within 10 days upon receiving your order. We will refund or replace the products if there is eviden that this is our fault.

.

8. How can you make sure your products are more competitive for my business?

With over 50 years of experience as manufacturers for three generations, direct trade saves significant costs. You do not need to pay middlemen nor brokers for better quality tea. We think we are at least 12% less expensive compared with traditional traders.

.

In addition, our teas are directly from our factory, thus are fresher than those offered by other traders. Good quality leads to better sales and less complaints; We also do OEM for your own brand, including TEA + PACKAGES according to your demand.

.

As we sell big quantities to overseas, the tea quality and pesticide are under control, and such are the average prime cost, which is very competitive.

.

Finally, we have not only premium product sources and trading experiences, but also complete supply chain and abundant cash flow to support our global tea business.

.

Taste the nature, enjoy the health!