Jasmine silver needle tips green tea
Product Detail
Feedback now



【
Origin
】
:
Fujian,China/Guangxi,China
【
Name
】
:

Fujian Jasmine silver needle buds tips green tea white tea
【
Model
】
:

O

RT258
【
Altitude
】
:

600M above sea
【
Process
】
:
● Process of tea leaves: Withering-First drying-Selecting-Reheating
Preparation of jasmine flower: Cooling-Curing-Sieving
● Scenting green tea leaves with jasmine flowers: Ventilation-Separate the flower-First scenting-Second scenting-Third scenting-Repeat scenting
【
Harvest time
】
:

Spring
【
Dried Leaves
】
:

Tea tips,Straight, evenly-shaped fat buds,covered with abundant white "hairs"
【
Infusion
】
:

Light yellow, bright and clear
【
Taste
】
:

A blend of strong sweet jasmine and refreshing white tea
【
Aroma
】
:

Sweet, Strong jasmine fragrance
【
Brewed Tealeaves
】
:

Tender tea bud soft and yellow color
【
Shelf Life
】
:

Two Years,Store in cool, dry place away from sunlight; keep ventilated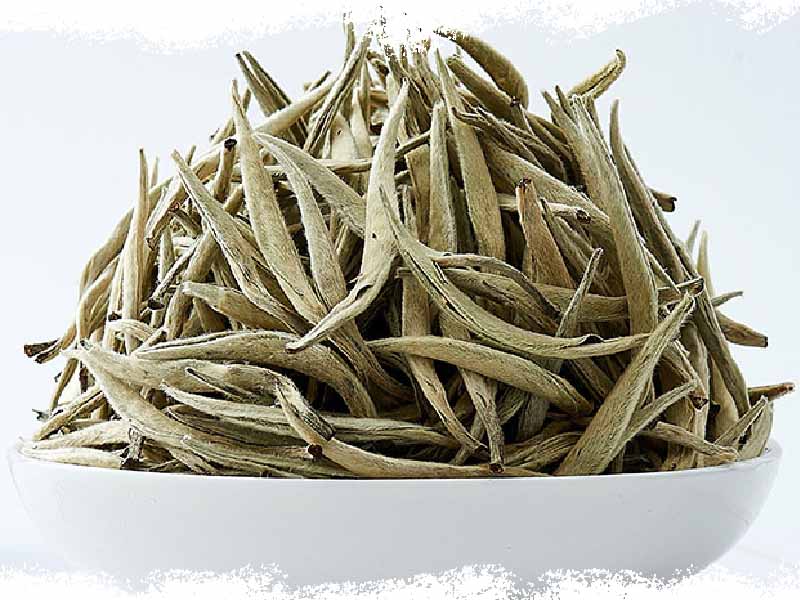 1. For Cardiovascular Heart
2. Ideal for Insomniacs
3. For Psychological Health
4. Prevents Cancer
5. For Digestive System
6. Boosts Immune System
7. For Weight loss,Youthful Skin
8. Prevents Cough and Cold

The health benefits of jasmine tea are wondrous like its fragrance. They can surely do wonder for your health but don't forget that every remedy works best in moderation.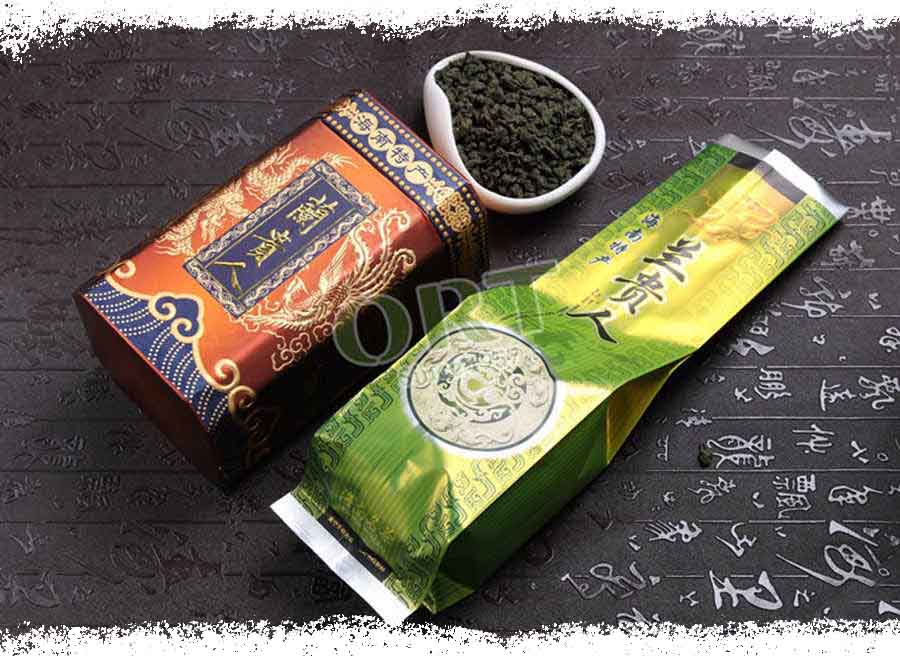 The appearance of the bud is exposed, covered with white hair, fresh and bright . Straight, evenly-shaped fat buds,covered with abundant white "hairs".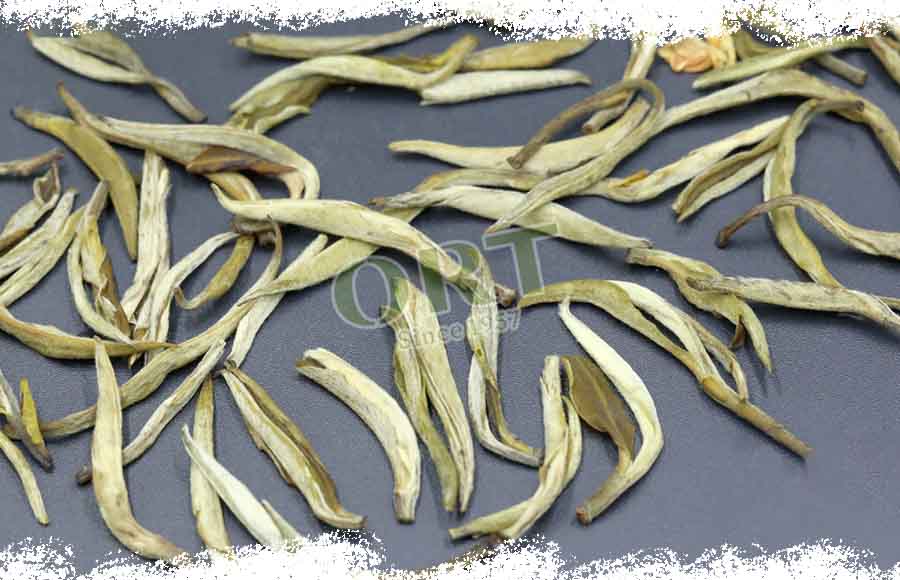 A blend of strong sweet jasmine flower and refreshing white tea.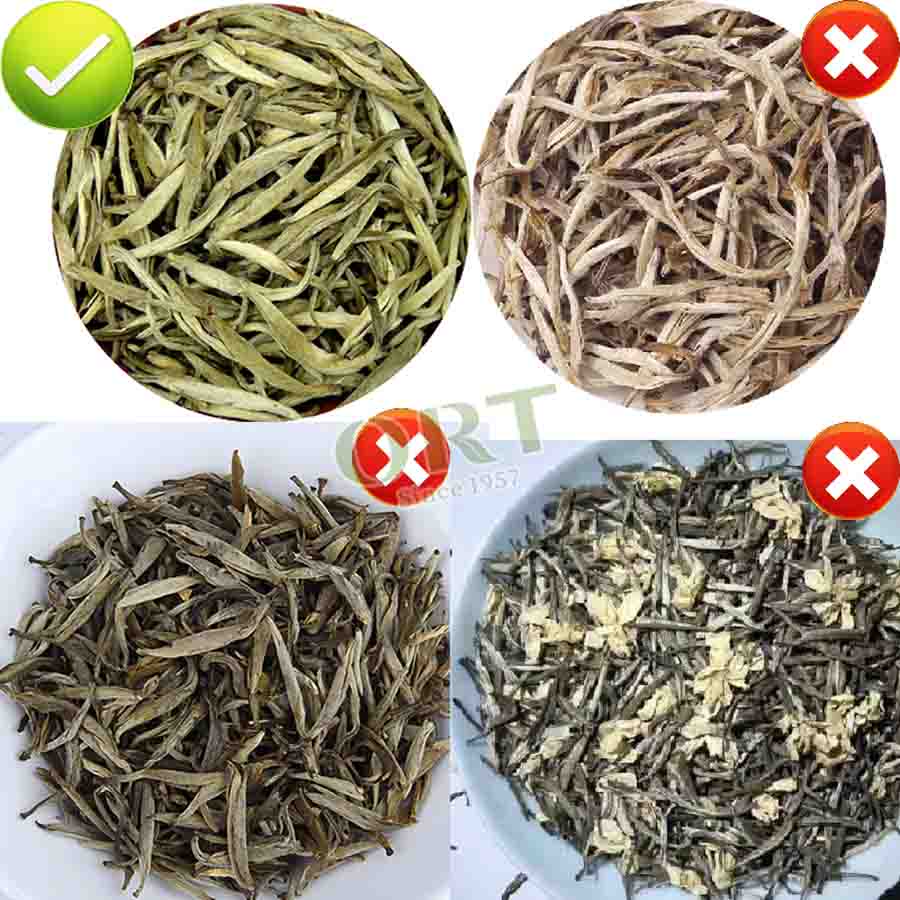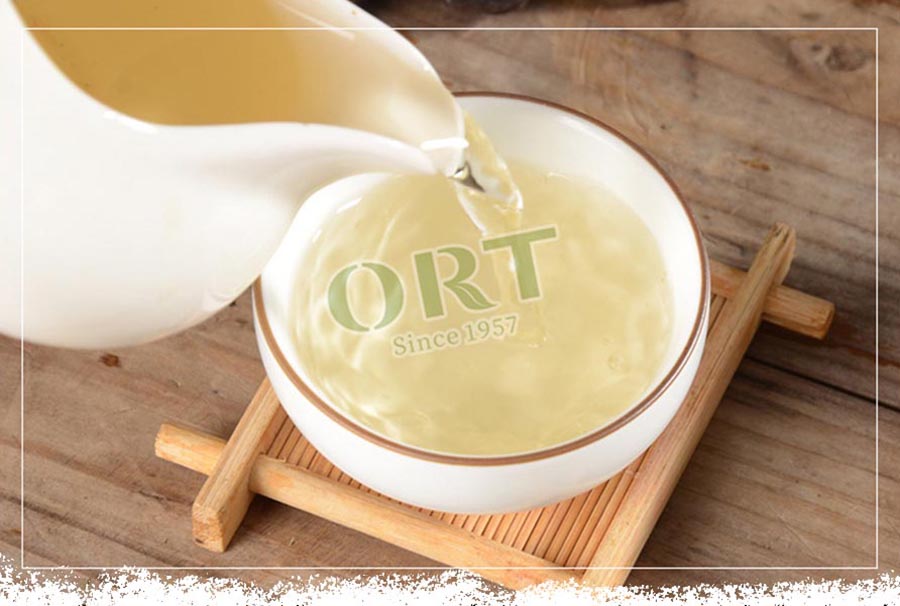 The tender buds at of the brewed tea have good softness and bright color.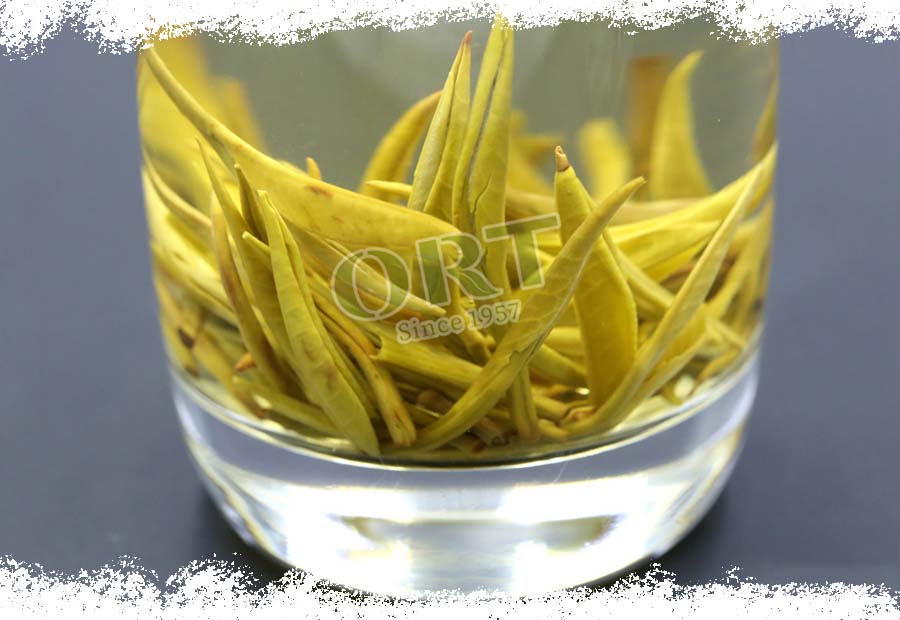 Fujian province is one of China's most prolific tea producing areas. These teas account for one-fifth of China's total tea output, and the consistently high quality keeps them in demand. A coastal province (Taiwan lies just to the east, across the Taiwan Strait), Fujian benefits from an excellent climate, combining mild temperatures, abundant rainfall, and a very mountainous terrain. The misty mountain scenery is a mainstay of traditional Chinese art. In fact, the traditional description of Fujian is '8 parts mountain, 1 part water and 1 part farmland.' Fujian has a long history of cultivating tea: over 1,000 years.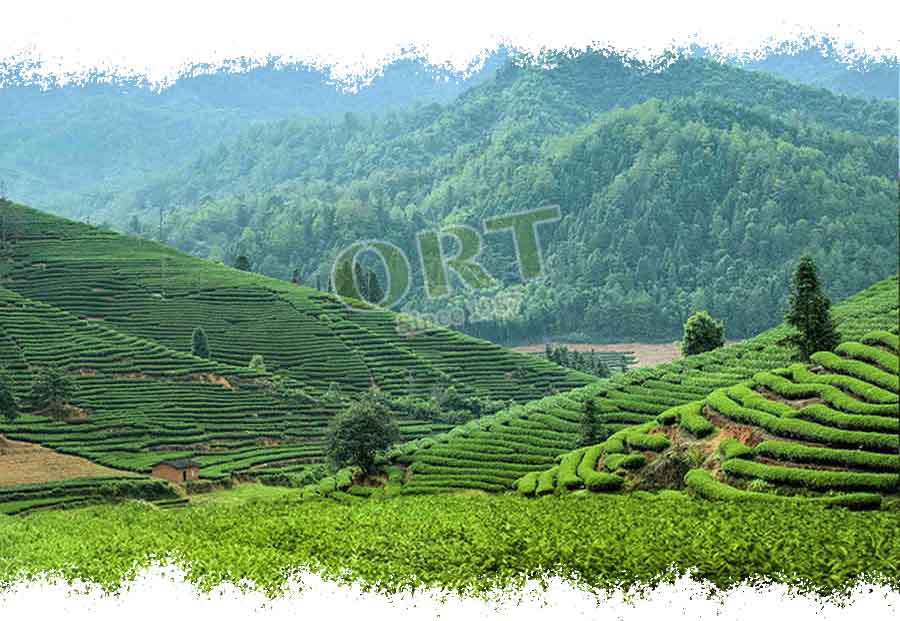 This Jasmine Silver Needle White Tea is made from the leaves of the Fuding Dabaihao tea plant, also called "Dahao" for short. It propogates asexually and is shaped like a small tree.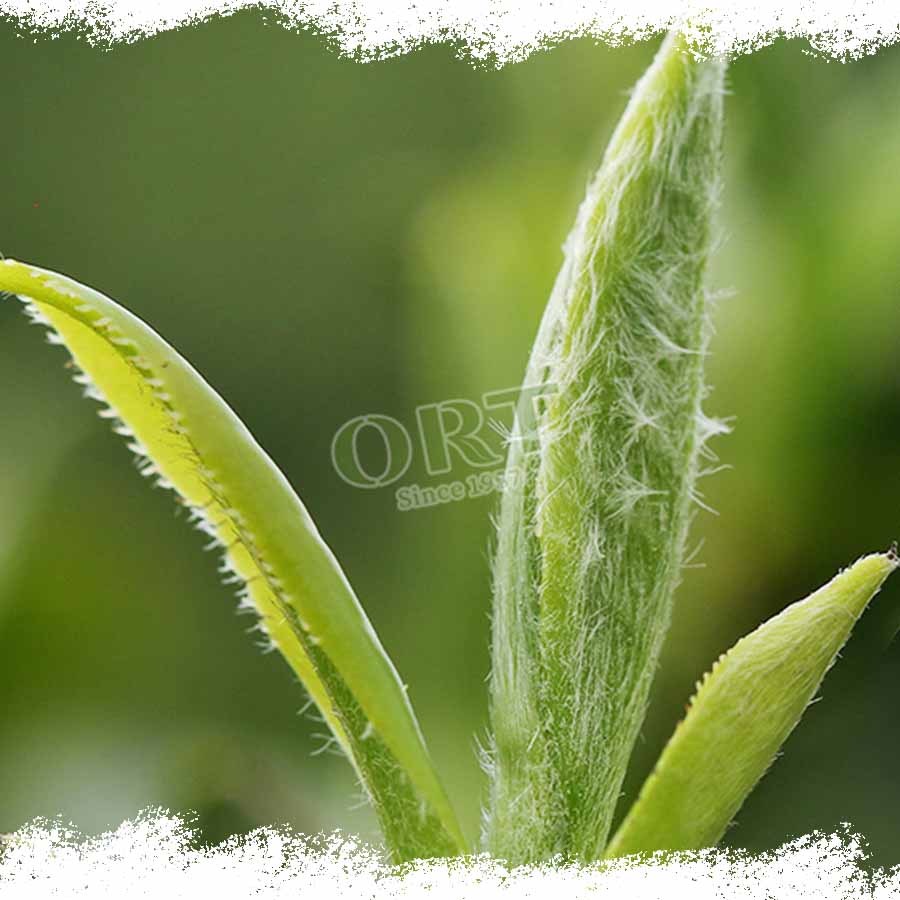 Process
Selected high-quality green tea and jasmine flower bud, using multiple scenting technology, strong fragrance, long lasting tea flavor.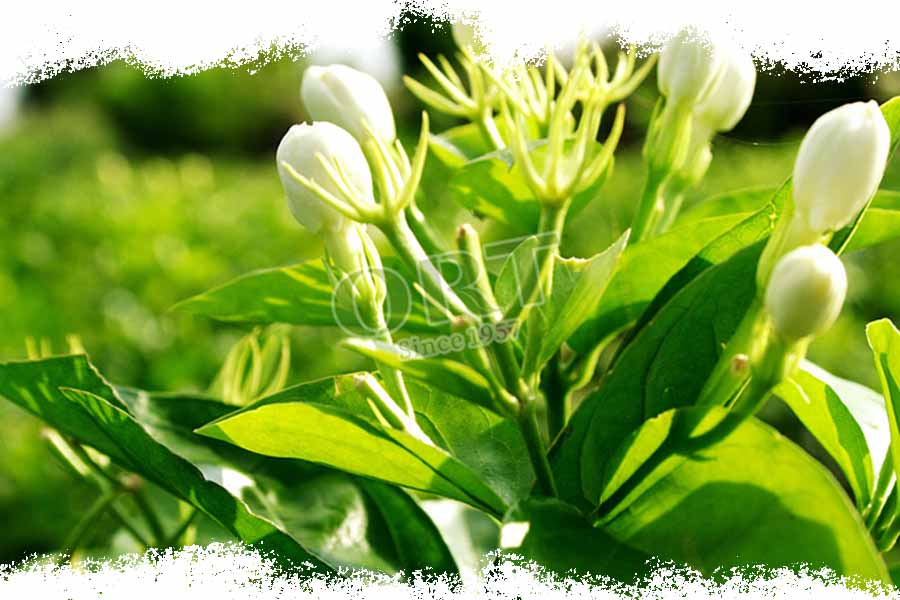 The process of scenting has several steps: Combining tea and jasmine flowers, Piling, Baking, Cooling, and separating tea & flowers, selecting.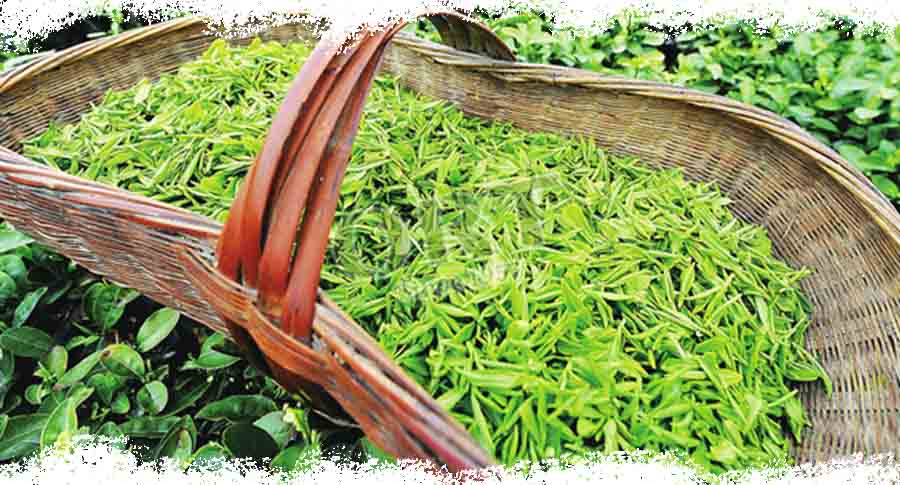 Jasmine come from jasmine garden in Guangxi
The jasmine flower used to scent this tea originates from Guangxi province, where it has earned its reputation nationwide. Hengxian, known as the City of Chinese Jasmine, is the most notable area of production - and earned its name for its ability to produce jasmine flowers of both high yield and high quality.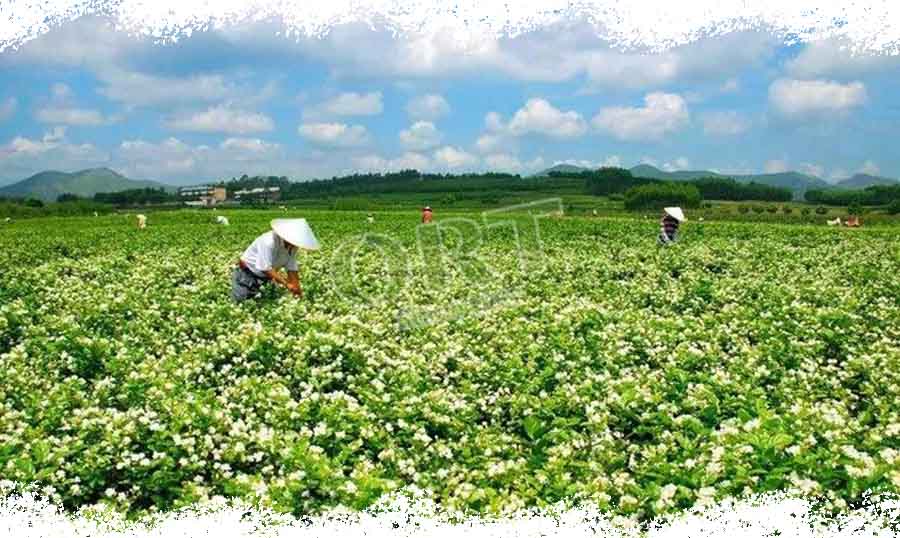 Seven times scenting and one time scenting with flowers of richer fragrance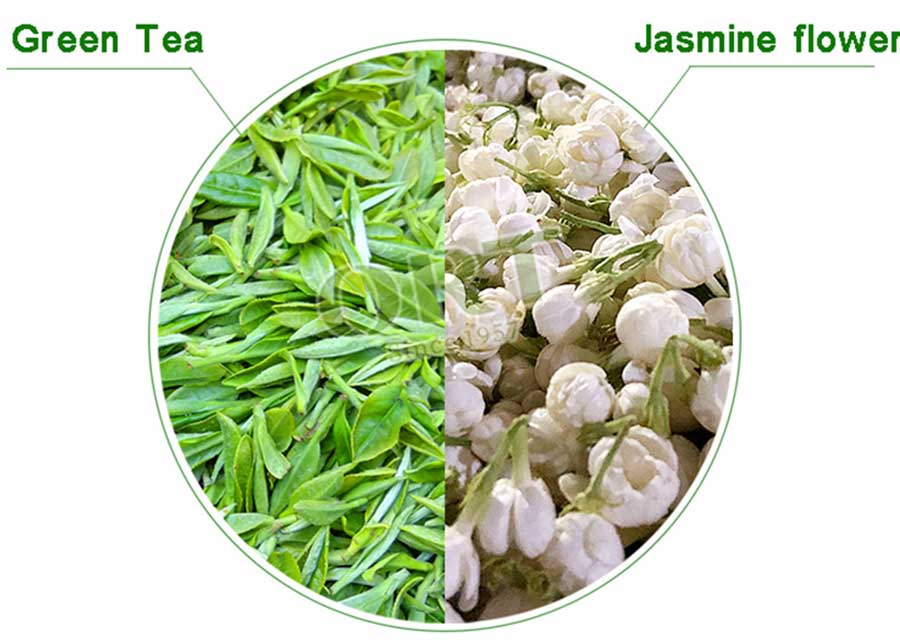 This scenting process is repeated with fresh jasmine flowers a total of 6 to 7times. Each time requires adding around 1 kg of fresh flowers. Each scenting process takes 6 to 7 hours. This highly-involved process requires around 3.5 kg of fresh Silver Needle tea leaves and 6 kg of jasmine flowers to produce 1kg of Jasmine Tea.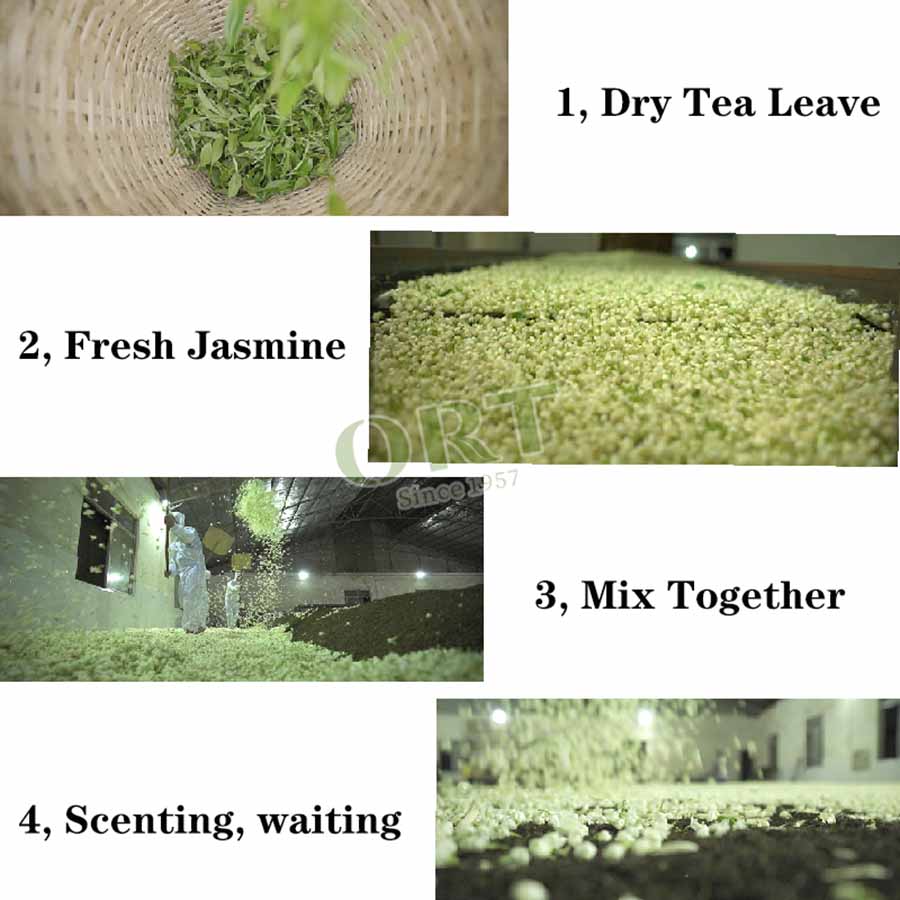 Speciallity
Our jasmine silver needle can generally be brewed for up to 6 times, that's rare among all the premium jasmine tea grades. Increase the steeping time by one minute for subsequent brews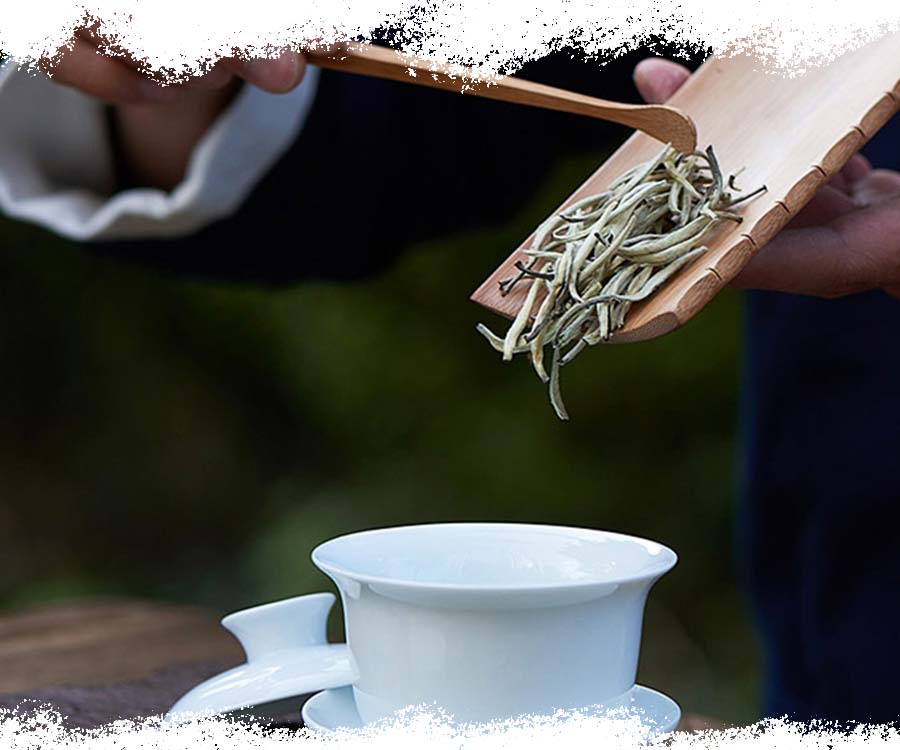 Jasmine silver needle tea contains plenty of health benefits, as it combines both the benefits of green tea and jasmine flowers, which has been loved by Chinese for hundreds of years in China, it is a pleasant tea that promotes relaxation, reduces stress, stimulate appetite and digestion, reduce anxiety, and lightening skin.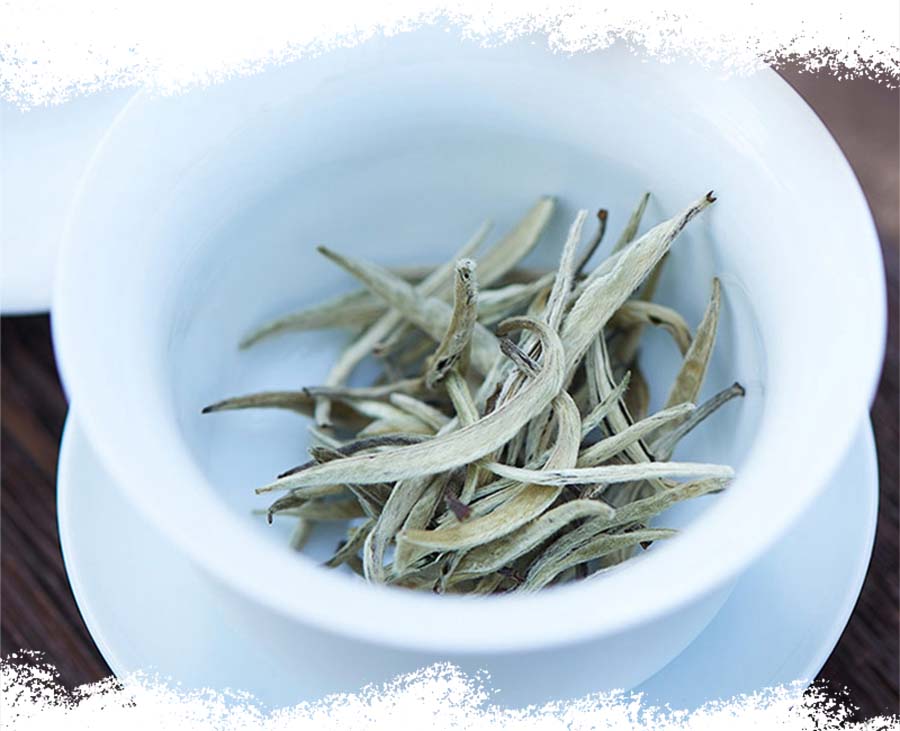 The best Chinese jasmine green teas are grown at high elevations in the mountains in the Fujian province. When making the Imperial Jasmine green tea, the leaves is carefully layered with fresh jasmine flower buds, which will open and release their scents to the tea. In the morning, the flowers are removed and the process is repeated again that evening. This happens several nights in a row, until the tea master has the aroma balanced just right.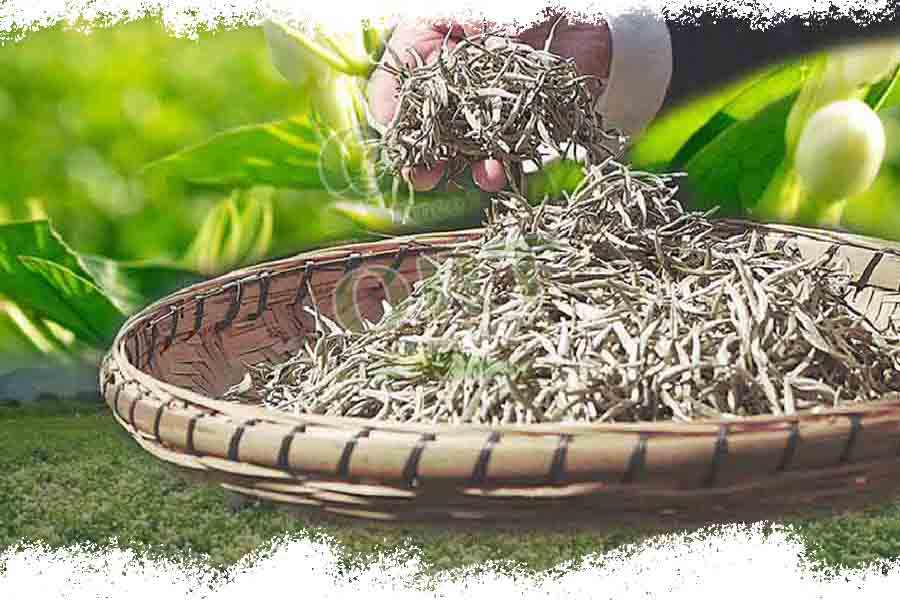 History
Scented green tea has a history stretching back over a thousand years, to the first innovation of adding spices and flowers to tea during the Song Dynasty around 960 AD. During the Ming Dynasty in the 1500s, the modern method wherein flowers are added to the tea prior to drying was introduced; however, at this time jasmine tea was quite rare, due to the complexities of the steps needed. Then during the mid-1800s in the Qing Dynasty, the production methods were perfected and as a result the number of tea farms rapidly increased, leading to higher volumes and lower prices. This in turn led to a surge in popularity, which the tea has retained to this day.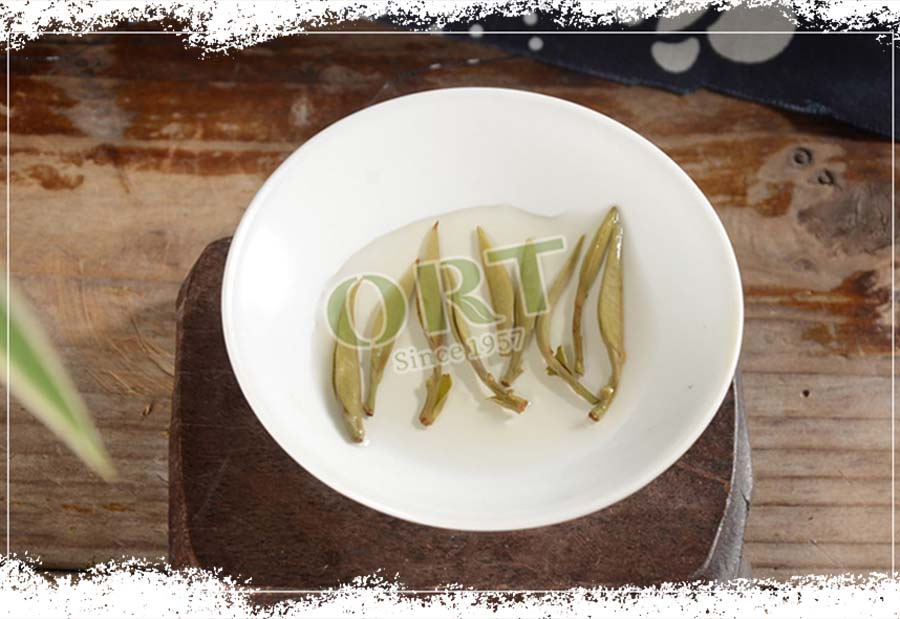 Sometimes product packaging is more important than internal items.
Whether a product can be successful in sales.

.

There are two key points:
1. Brand.
2. Product packaging.

.

Today, there's vastly abundant products apprear every second, consumers pay few attention to each product, to grasp the moment when consumers' eyes are swept across the shelf.

.

Only packaging can make comprehensive combination of color, shape, material and other elements, while showing the connotation and information of products, brands, highlighting the common interests of products and consumers, forming a more intuitive impact on consumers, and then affecting consumption The consumer's impression of the product, effectively fulfilling the purpose of attracting consumers.
1. Can I get samples?

Yes, free samples are available on a case by case basis at buyer's own freight cost after confirmation

.

2. What is your minimum order requirements?

Usually 20kgs/ item, knowing that the more quantity, the lower the price per kg.

Sample order is also acceptable.

.

3. Can you provide OEM service?

Sure, please contact us for more details.

.

4. How is your Quality Control?

From the very beginning to the very end, National Commodity Inspection and Testing Bureau, Authority Third-party Testing institution, QS, NOP, BRC, QS guarantee our quality.

.

The details for our pesticide control are as follows:

● we test our raw tea material.

● we test the first batch sample products.

● we test the bulk tea before shipment.

Please ask us for the original certifications.

.

5. Can I visit your factory & offices?

Yes, you are most welcome to visit us. Please let us know in advance so we can get organized.

We have own tea farms and factory in Fuding, Hengxian and Fengqing two hours away from Xiamen city (for white tea, green tea, oolong tea), or three hours away from Nanning airport (For Jasmine tea), and three hours away from Lincang airport (For Black Tea & Pu Erh Tea) .

.

6. When will my order shipped?

Products in stock usually ship within 3 days. Otherwise, depending on the tea varieties and order quantity, delivery times can vary. Please ask us and we will let you know.

.

7. Will my money be refunded if anything is wrong with my order?

If there is a problem or defect with your order, please contact our manager within 10 days upon receiving your order. We will refund or replace the products if there is eviden that this is our fault.

.

8. How can you make sure your products are more competitive for my business?

With over 50 years of experience as manufacturers for three generations, direct trade saves significant costs. You do not need to pay middlemen nor brokers for better quality tea. We think we are at least 12% less expensive compared with traditional traders.

.

In addition, our teas are directly from our factory, thus are fresher than those offered by other traders. Good quality leads to better sales and less complaints; We also do OEM for your own brand, including TEA + PACKAGES according to your demand.

.

As we sell big quantities to overseas, the tea quality and pesticide are under control, and such are the average prime cost, which is very competitive.

.

Finally, we have not only premium product sources and trading experiences, but also complete supply chain and abundant cash flow to support our global tea business.

.

Taste the nature, enjoy the health!